Texas A&M will allow December test scores to enhance a file, if a student is complete (and already has a test score on file) by the December 8 deadline.




Ocean Engineering now available on the College Station campus.
Applicants can select a campus on ApplyTexas.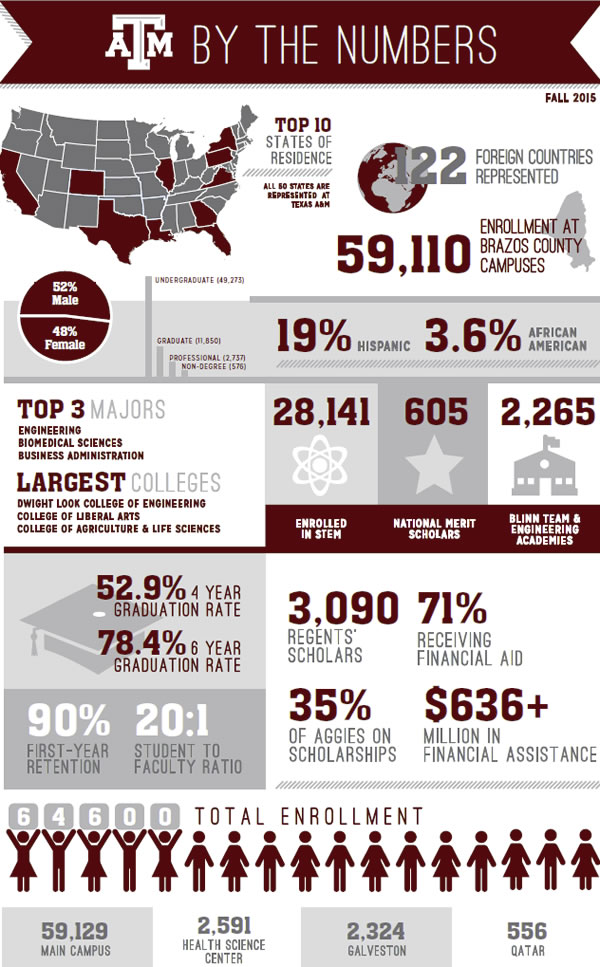 Texas A&M Announces Expansion of the Texas A&M Engineering Academies
Texas A&M University has announced the formation of the Texas A&M-Chevron Engineering Academies at four two-year colleges across the state of Texas. This innovative co-enrollment partnership was developed to address the state's growing need for engineers. Houston Community College in Houston; Texas Southmost College in Brownsville; Alamo Colleges in San Antonio; and El Centro College in Dallas are the first partners in the program, which is supported by a $5 million gift from Chevron.
Read More >

Engineering at Galveston
"Engineering at Galveston" is a program that provides students an opportunity to begin their engineering studies on the Texas A&M Galveston campus and to complete their engineering degree in College Station as part of the Dwight Look College of Engineering. This program offers students the unique chance to learn, live, and experience college life on two vastly different campuses. Participants in the Engineering at Galveston program are selected by the Office of Admissions as part of the regular freshman admission process. There is no way to apply directly to the Engineering at Galveston program.

Top 10% and Graduation Plans
As you know, HB5 set new requirements for admission under the top ten rule. Students must graduate under one of the following graduation plans in order to qualify for automatic admission:
a. Foundation Distinguished
b. Recommended
c. Distinguished

We have received a number of transcripts with a top 10% ranking and no graduation plan noted. These students cannot be admitted until we have a graduation plan on file. Please be sure your transcripts note the graduation plan the student is pursuing so we don't inadvertently delay a student's admission.

COMING SOON – AIS Counselor Upload Capabilities!
Students will soon be able to send a request to their high school counselor to upload supporting documents such as transcripts, class rank, fee waivers, letters of recommendation, etc. on their behalf. The request triggers an email to the counselor which has a secure link allowing access to our upload feature. Counselors must authenticate using a social media account or email account then the upload is easy. Our preferred method for receipt of transcripts is still TREx, but this will be a wonderful second option.




New Major in Public Health Debuts at Texas A&M


Texas A&M University has a brand-new major! The School of Public Health in the Texas A&M Health Science Center has welcomed its first full class of undergraduate Public Health majors to Aggieland. The Bachelor of Science in Public Health, the only undergraduate program in the School of Public Health, seeks to improve population health throughout Texas and beyond by providing competency-based educational programs focused on the knowledge, skills, and abilities relevant to the practice of public health. Students majoring in public health have options beyond public health. There are specific degree plans for students interested in medicine, nursing and law; and graduates will pursue everything from hospital administration and physical therapy to careers in research, the military, or with the National Institute of Health and the Centers for Disease Control. The Bachelor of Science in Public Health at Texas A&M is unique in that it is the only undergraduate public health degree in the state of Texas, and one of very few in the entire nation, that is part of a fully accredited school of public health. For more information about the School of Public Health and the Department of Public Health Studies, visit sph.tamhsc.edu/phs. If you have any questions about the major, email bsph@tamhsc.edu.